Tuesday, April 22, 2008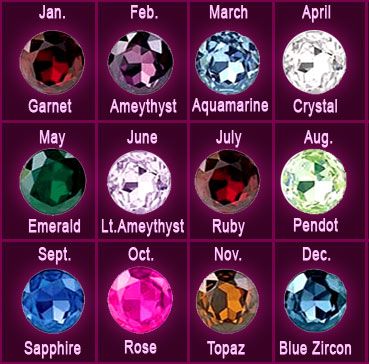 Birthstones are gemstones that are associated with each month. They may be precious stones, such as diamonds, or semi-precious, such as Lapiz Lazuli. In each case they are considered lucky for their particular months and for those who believe in such things their healing powers are heightened during their months.

So if you're born in April then your Birthstone is the Diamond and you will get the most benefit from diamonds by wearing them in April.

Of course, people might argue that wearing diamonds at anytime is a good thing!

Since each birthstone has heightened powers during its month then some people buy a set of all twelve and rotate them for each month. So where do you get a nice set of birthstones? Or even individual stones? (The Crystal Ball online store is run by some very nice people who know a great deal about stones and their mystical properties. They do some beautiful work with their birthstones. )

The Modern Birthstone List contains the official birthstone list from the American National Association of Jewelers, Jewelers of America. These gemstones were officially adopted in 1912. In the US, this is the accepted list.

The Traditional Birthstone list contains older birthstones and is sometimes combined with the modern birthstone list. These stones reflect societal birthstone traditions, heralding back to the 15th century. (Many jewelers have differing lists of traditional birthstones, but the birthstone colors will be very close from list to list.)

The Mystical Birthstone list is of Tibetan origin from over a thousand years ago.

The Ayurvedic Birthstone list is from Ayurvedic Indian Medicine - a type of medicine used for over a thousand years.

Stones listed in the "other" column were correlated by Dave Thompson and others participating on the usenet newsgroup rec.crafts.jewelry as alternative birthstones for each month. The Curious Lore of Precious Stones by George Frederick Kunz has a wonderful list of birthstones from different cultures.

Many people decide to go with jewelry that combines several birth stones into one item, a birthstone bracelet, for example. Others prefer single stones. The birthstone chart, below, will take you to either an article or a merchant site where you can get more information on that particular birth stone.
Thursday, April 17, 2008
Gemsbrokers introduces to you to the most important participants on the diamond and gemstone market: the brokers.

The brokers represent the supply for gems on the local gemstone markets: local gemstone suppliers rely on them for the sale of their gems. As a result, brokers are always involved in a large volume of confidential transactions, and know the local market well.

Only when you buy directly from the brokers you get the best value possible on the gemstones market.

Brokers come to Gemsbrokers offices because of our professional ethic: we organize fair transactions, and do not choose brokers on the basis of personal relationships or hidden commission fees.

The transparency of operations in Gemsbrokers trading offices is there to protect broker and buyer interests.

It is for this purpose that Gemsbrokers puts at your disposition your own negotiation table. Then, you can engage in trading gems confidentially in a secure setting with the brokers. With Gemsbrokers, you get all you need to make informed buying decisions, and can act on local gemstone markets with the confidence of knowing perfectly how to trade in gems.

In this way Gemsbrokers gives professional and individual buyers the opportunity to enhance their trading results through the use of secure, fully equipped trading offices.

With Gemsbrokers, you can get from the best local brokers quality gems - certified by in-house gem experts - for only a small fraction of the price you would pay in retail stores at home.

The brokers that come to trade in Gemsbrokers offices are native to the province where they practice, and are responsible members of their communities. Like their cities, they are welcoming and grateful towards those that buy gems from the source.

Brokers acknowledge the importance of both human and technological exchanges made possible through your visit to our offices. They respect market participants as they see them as contributors to the welfare of their communities.