Glittering Stones » Diamond 4 C's » Cut
Cut
Cut is the important factor in diamond 4 C's. It is a factor that fuels diamond's fire, sparkle and brilliance. The traditional 58 tiny facets in a diamond, each precisely cut and sharply defined may be two millimeters in diameters. But without this precision, diamond wouldn't be as beautiful. The allure of diamond depends more on cut than anything else. It's difficult to analyze that the cut of any diamond has three attributes brilliance, fire and scintillation.

The shape of diamond is defined based on the diamond cut. The standard round brilliant is the shape used in most diamond jewelry. The other diamond cuts are fancy shapes. Marquise, pear, oval and emerald cuts are the traditional fancy shapes. Heart, cushion, triangles and variety of others are also used in diamond cuts. Though cut refers to diamond's proportions, symmetry and polish, the major components from top to bottom are crown, girdle and pavilion. The more facets on the diamond's surface, the more glimmers across the surface area. Round brilliant cut diamond can have either 57 or 58 facets, and the 58th tiny facet at the bottom of the pavilion is known as culet. The large flat facet on the top is the table. The proportion of diamond refers to the relationship between table size, crown angle and pavilion depth. The wide range of proportion combinations is possible and this ultimately affects the stone's synchronicity with light.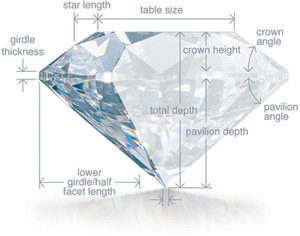 The distance from the bottom of the girdle to the culet is the pavilion depth and the pavilion depth that is too shallow or too deep will allow light to escape through the sides or bottom of the stone. A well cut diamond will direct more light through the crown.